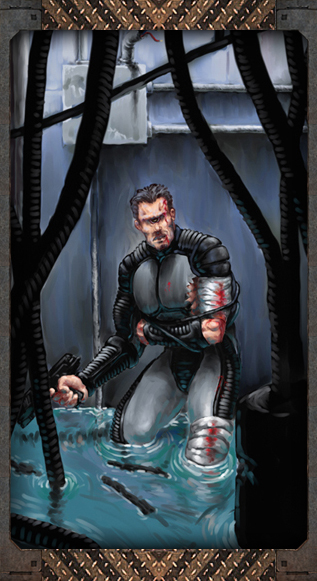 MOAG. What is it good for?
Welcome to the Official MOAG site. As for what MOAG is, well, that's no longer open for debate. I guess we should start with MOAG. MOAG stands for Masters Of All Galaxies. Anyway, MOAG was the brainchild of one West Harris. Having played copious amounts of MechWarrior and Dungeons and Dragons, we all came to the conclusion that these games were missing something. Or better yet, they had too much. Tired of referring to the various breakfast cereal charts and running tables, we simply wanted a base standard of game play in which the GM could expand and dictate at their discretion. Now don't get me wrong. MechWarrior and Dungeons and Dragons are both excellent games, and we had no intention of coming up with something "Better", just different. Anyway to make a long story short, West came up with MOAG. A space exploration RPG set in the near future, borrowing heavily from various subjects as The Predator to Star Wars to The Good The Bad and The Ugly. And possibly West Side Story, and The Abyss. Okay basically any work of science fiction.
Well, my retelling of how it all began is probably a bit sketchy. It's been almost 30 years since we started this, so you'll have to give me some latitude in my remembering. And so it brings us to this current enterprise, and the answer to what this is all about. It's all about MOAG. And Role Playing. So enjoy, peruse and more importantly play.
What You'll Find Here
Tired of calling West in the early hours of the morning, okay, so no tiring for us, but I guess he's getting tired of answering. Anyway, we decided to put all the necessary rules, stats, charts, and anything else related to MOAG on the web for easy access. We're hoping this will enable others to start playing the game, and eventually get this baby off the ground. So look through all the various pages and you'll find all you need for character generation, rules and game play, basically anything you need for MOAG.

So what are you waiting for.